Posted by Tammy Sons on 27th Jun 2018
Buckeye Tree
Also known as the Aesculus Glabra, the Buckeye Tree is a great-looking, blossoming tree that is indigenous to the Midwest and lower great plains of the U.S. the Buckeye Tree is also Ohio's state tree. The tree does well in full sunlight and grows between 30 and 50 feet in height. It thrives in deep, fertile soil, and in the right conditions, can live for 60-80 years. In optimal conditions, seeds will produce within the 5-10 year range. Planters should plant an ample amount of seeds because only about 50% of the Buckeye seeds will germinate. Squirrels love Buckeye Tree seeds, and extraordinary measures should be taken to keep them from being dug up. The tree produces white blooms and leaves that grow 4-6 inches. The fruit of the tree is greenish in color and spiny. Each fruit contains 4 or 5 Buckeye nuts, which are small, brown nutmeg colored nuts, which according to local folklore, hold mystical properties. The Buckeye tree adds beauty to your lawn and is excellent for providing shade in the summer months. Families will appreciate tree's curbside appeal.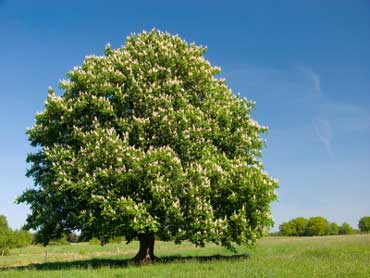 Zone: 2
Mature Height: 30-50 ft.
Growth: Slow Growing
Sunlight: Partial Sunlight
Soil: Does best in fertile, sparsely watered earth
Striped Maple Tree
The Striped Maple Tree, also known as Moosewood or Maple Moose, is a small tree that can be recognized by the green and white stripes on its branches. The maples have a male and female species that can change depending on the climate. The mature tree grows between 10-12 feet, and the width is about 5-8 feet. The Striped Maple can be found in the moist, cool forests of the Northeastern U.S., which extends upward through Quebec, and as far east as Nova Scotia. They can also be found in the higher elevations that stretch from the Appalachian Mountains to Georgia. The green leaves are about 6 inches in length and change to a yellow-brown color in the fall. In late spring, the tree produces yellow clusters of flowers. When the flowers die, they swap with dried seed pods called winged samara. The Striped Maple grows best in shaded areas with acidic, very wet soil. The maples grow as ornamental trees, and they do very well in the shadow of fruit trees. The trees are also important to wildlife, as the leaves, bark, and flowers get eaten by insects and larger animals such as moose and deer.
Zones - 4-8
Mature Height - 12 ft.
Mature Width - 5-8 ft.
Sunlight - Prefer shaded areas
Soil Conditions - Very moist
Botanical conditions - Acer Pensylvanicum
Black Cherry Tree
The main attraction for this tree is the fruit. This tree is best left growing in large, open and sunny locations because of its size. Black cherry trees can grow to an unbelievable height of up to 100 feet. It provides a beautiful floral arrangement in May and then promises blackberries in August. Cherry trees are no doubt one of the favorite types of fruit trees that gardeners cherish. Just make sure that harvesting the berries get taken before the songbirds, squirrels, and deer eat them. Make sure that there is enough room in the yard for the tree to grow. These trees are very tolerant to climate and can live up to 150 to 200 years. This is an excellent smelling tree that has medicinal qualities attached to it. The bark of the tree is dark in color and separates naturally and quickly. This type tree is native to North America but has been promoted to the European continent because of its popularity. The core of this type tree has been used for medicinal qualities that have directed towards the digestive system such as diarrhea, coughs and for loss of appetite.
Zones: 3-9
Mature Height: 70 to 100 feet tall
Width: 2-3 feet
Shape: Small flower like pendulums
Growth: Fast growing
Sunlight: Full exposure for best results
Soil: Moist
Botanical name: Prunus Serotina
Paulownia Tomentosa Tree
The Paulownia Tomentosa Tree - also known as the Princess Tree, Empress Tree or Foxglove Tree - is native to Western and Central China but does very well in areas of the United States. It has beautiful blue-green foliage that has a velvety texture. The Princess Tree has lovely purple flowers from mid-spring through late spring and into early summer. There is an old Chinese tradition of planting an Empress Tree with a baby girl is born, as this is a quick-growing tree that is sufficiently mature between fifteen and twenty years, therefore maturing along with the child. It is said to be named after Grand Duchess Anna Pavlovna of Russia. This will make an excellent tree for a flower garden or natural area. It will produce beautiful blue-green foliage and purple flowers for you to enjoy. It can grow to be forty or more feet tall, and you can keep it trimmed back to the perfect height for your garden needs. It will grow best in full sunlight but also works well in partially shaded areas. This tree will be beautiful in any natural garden.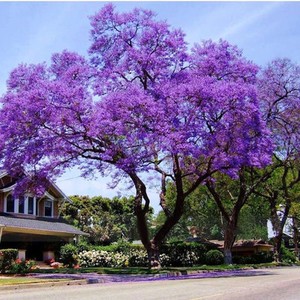 Zones: 5-9
Mature Height: approximately 40 feet
Growth: Fast growing
Sunlight: Full Sun
Botanical name: Paulownia tomentosa
Red Rocket Crepe Myrtle - The Red Rocket Crepe Myrtle is a beautiful tree or also known as a shrub to grow in just about any landscaped area. This plant is not only beautiful but drought tolerant also. Makes this tree unusual for any business or office where there could be days it doesn't get watered. This beauty of a tree works wonderfully along sidewalks and driveways. The beautiful red blooms and extremely bright greens make this tree a great addition to most all yards as well. The Red Rocket Crepe Myrtle thrives the best in full sunlight, yet does just as good in the partial sun. This plant can grow up to 25 feet and on an average gets to 8 feet in width.
Garden Growing Specs:
Gardening Zones: 7 - 9
Plants Mature Height: 15 - 25 ft.
Plants Mature Width: 10 - 20 ft.
Plants Growth Each Year: 4 - 5 ft.
Required Sunlight: Full - Partial Sun
Top Recommended Soil Conditions: Slightly Moist yet Well Drained
Botanical: Lageerstromia